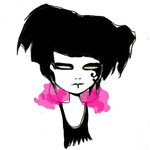 Abraxas (luciana cabane)
I'm an Argentinean illustrator based in Sao Paulo, Brazil. I've started my interest in drawing since I was in kindergarten and that lead me to the Rosario National Arts and Humanities University in 2002. I produce my work with both digital and analogue techniques, using mixed media most of the time. https://www.facebook.com/abraxasdrawings Abraxas (luciana cabane) joined Society6 on September 22, 2013
More
I'm an Argentinean illustrator based in Sao Paulo, Brazil. I've started my interest in drawing since I was in kindergarten and that lead me to the Rosario National Arts and Humanities University in 2002. I produce my work with both digital and analogue techniques, using mixed media most of the time.
https://www.facebook.com/abraxasdrawings
Abraxas (luciana cabane) joined Society6 on September 22, 2013.