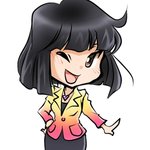 Achiru
Welcome! Most of my artwork revolves around my cast of characters, but you will also find the occasional illustration that has nothing to do with my stories. I work in a variety of media, namely digital painting, acrylic painting, and Chinese watercolours. You can also find my work at: http://achiru.chorwong.com http://achiru-et-al.deviantart.com http://achiru.tumblr.com Achiru joined Society6 on March 29, 2013
More
Welcome!
Most of my artwork revolves around my cast of characters, but you will also find the occasional illustration that has nothing to do with my stories. I work in a variety of media, namely digital painting, acrylic painting, and Chinese watercolours.
You can also find my work at: http://achiru.chorwong.com http://achiru-et-al.deviantart.com http://achiru.tumblr.com
Achiru joined Society6 on March 29, 2013.