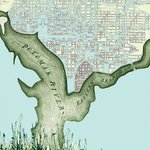 Adam Chamy
http://adamchamy.com Adam Chamy creates expressive works that re-imagine the human and physical landscapes into conceptually abstract paintings and mixed media art. Taking inspiration from unusual found materials, his pieces explore a broad range of themes ranging from the dialogue between modernity and spirituality to the politics of identity. Born in Fort Worth, Texas to a Palestinian father and American mother, Chamy currently practices in Washington, DC. He has exhibited at venues including the Dallas Museum of Art in Texas, GaleriaZero in Barcelona, and the Jerusalem Fund in Washington, DC. Adam Chamy joined Society6 on May 22, 2010
More
http://adamchamy.com
Adam Chamy creates expressive works that re-imagine the human and physical landscapes into conceptually abstract paintings and mixed media art. Taking inspiration from unusual found materials, his pieces explore a broad range of themes ranging from the dialogue between modernity and spirituality to the politics of identity.
Born in Fort Worth, Texas to a Palestinian father and American mother, Chamy currently practices in Washington, DC. He has exhibited at venues including the Dallas Museum of Art in Texas, GaleriaZero in Barcelona, and the Jerusalem Fund in Washington, DC.
Adam Chamy joined Society6 on May 22, 2010.
Prints by Adam Chamy
6 result
Filter