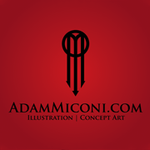 Adam Miconi
I am a fantasy and concept artist. I love what I do and I hope you do as well. Take a look through my available prints and if you like anything and purchase anything I highly, highly appreciate it! Feel free to add me on Facebook or visit my website: www.adammiconi.com Adam Miconi joined Society6 on July 15, 2013
More
I am a fantasy and concept artist. I love what I do and I hope you do as well. Take a look through my available prints and if you like anything and purchase anything I highly, highly appreciate it!
Feel free to add me on Facebook or visit my website: www.adammiconi.com
Adam Miconi joined Society6 on July 15, 2013.