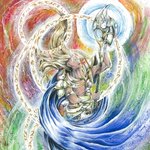 Adam Murray
I was born and raised in Northern Ireland but I am currently studying and living in Scotland. Art has always been central part of my life ever since I was very young. I am obsessed with fantasy and anything that my imagination can create (often along with as much colour as I can). Later in life I also started to have a keen interest in medicine and anatomy. Other than the fiction I could create in my mind this became my other great inspiration for what I paint. Unfortunately my degree doesn't give me as much time as I would like to paint and draw. So I saw this site as a way of keeping art in my life even if I can't do it as much as I would like. I hope you enjoy seeing it as much as I enjoy creating it. Feel free to comment and let me know what you think ! Instagram: @adamamurray Adam Murray joined Society6 on May 29, 2014
More
I was born and raised in Northern Ireland but I am currently studying and living in Scotland. Art has always been central part of my life ever since I was very young. I am obsessed with fantasy and anything that my imagination can create (often along with as much colour as I can). Later in life I also started to have a keen interest in medicine and anatomy. Other than the fiction I could create in my mind this became my other great inspiration for what I paint. Unfortunately my degree doesn't give me as much time as I would like to paint and draw. So I saw this site as a way of keeping art in my life even if I can't do it as much as I would like. I hope you enjoy seeing it as much as I enjoy creating it. Feel free to comment and let me know what you think !
Instagram: @adamamurray
Adam Murray joined Society6 on May 29, 2014.