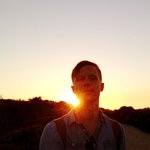 adam ziskie
Adam Ziskie is a freelance artist, watercolor enthusiast, and avid coffee drinker living in San Francisco, California. Following in the tradition of Depression Era films, Ziskie's artwork aims to distract. Using a subdued color palette, a series of simple shapes, and images revolving around the everyday, Ziskie attempts to create an idealized slant on the common place. You can view his work at: www.adamziskie.com adam ziskie joined Society6 on October 1, 2013
More
Adam Ziskie is a freelance artist, watercolor enthusiast, and avid coffee drinker living in San Francisco, California. Following in the tradition of Depression Era films, Ziskie's artwork aims to distract. Using a subdued color palette, a series of simple shapes, and images revolving around the everyday, Ziskie attempts to create an idealized slant on the common place.
You can view his work at: www.adamziskie.com
adam ziskie joined Society6 on October 1, 2013.