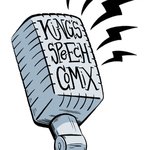 Adam Del Re
Adam is graduate of the SCAD Sequential Art MFA program, and currently enjoys making comics about wrestling, beards and math, and lettering comics by hand. If you'd like to see more of Adam's work, head over to AdamDelRe.tumblr.com. Or you can contact Adam at AdamDelRe@gmail.com. Adam Del Re joined Society6 on January 2, 2011
More
Adam is graduate of the SCAD Sequential Art MFA program, and currently enjoys making comics about wrestling, beards and math, and lettering comics by hand.
If you'd like to see more of Adam's work, head over to AdamDelRe.tumblr.com.
Or you can contact Adam at AdamDelRe@gmail.com.
Adam Del Re joined Society6 on January 2, 2011.