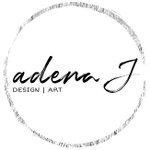 adenajdesign
My name is Adena, and I'm a surface designer from Cape Town, South Africa. My passions are art and pattern design, and I fill my days creating designs for various Print On Demand websites and dabbling in typography. I'm inspired by organic patterns, paint textures and watercolor washes. adenajdesign joined Society6 on April 17, 2017
More
My name is Adena, and I'm a surface designer from Cape Town, South Africa.
My passions are art and pattern design, and I fill my days creating designs for various Print On Demand websites and dabbling in typography.
I'm inspired by organic patterns, paint textures and watercolor washes.
adenajdesign joined Society6 on April 17, 2017.