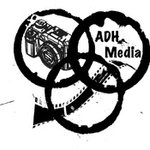 ADHMedia
Annalisa is a skilled photographer and videographer. She has been working in these mediums since 2008 and continually strives to bring clients an experience, not just a final product. When you choose to have Annalisa help you with your photography or video needs, you can rest easy knowing your dreams and memories will be documented in a way you can be proud of. No matter where your needs lie, Annalisa has you covered. Fluent in all branches of photography and video, including but not limited to portraits, weddings, products, commercials, and music videos. As a specialty, Annalisa enjoys documenting the world of body modification, including everything from capturing suspensions to photographing that beautiful jewelry the industry is known for. Here, you may purchase high quality prints, t-shirts, and other products to support Annalisa's work. ADHMedia joined Society6 on July 14, 2014
More
Annalisa is a skilled photographer and videographer. She has been working in these mediums since 2008 and continually strives to bring clients an experience, not just a final product. When you choose to have Annalisa help you with your photography or video needs, you can rest easy knowing your dreams and memories will be documented in a way you can be proud of. No matter where your needs lie, Annalisa has you covered. Fluent in all branches of photography and video, including but not limited to portraits, weddings, products, commercials, and music videos. As a specialty, Annalisa enjoys documenting the world of body modification, including everything from capturing suspensions to photographing that beautiful jewelry the industry is known for.
Here, you may purchase high quality prints, t-shirts, and other products to support Annalisa's work.
ADHMedia joined Society6 on July 14, 2014.