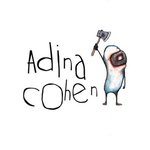 Adina Cohen
Adina Cohen is a professional stop motion animator based in Los Angeles, California. She has worked on numerous projects including, Robot Chicken, Super mansion Buddy Thunderstruck and the Oscar nominated stop Motion Film Anomalisa.
Adina's animated shorts "Fork and Knife" and "The Trip" have shown at numerous film festivals across America including Montreal's Stop Motion Film Festival.
Her multidisciplinary work combines the textures and color of the unpolished world with a whimsical aesthetic of old patchwork fabrics. Her characters, while unsettling, are completely genuine, unfiltered and separate from the stereotypes of the modern world. They are free to reveal what drives them.
Life is not just a happy slice of cake nor is it a doom machine; it is all of those things and the grey bits in the middle. Adina believes that the stories worth telling are the ones that happen in real life where nothing is gained without the triumph of failure.
She has come to Etsy to share her illustrations and sculptures with new and old fans around the world.
short animations, portfolio, and blog check out: WWW.ADINACOHEN.COM
Commissioned works: Please send details of project and inquiry for rates and availability to Ace_the_second [at] hotmail.com
Read more