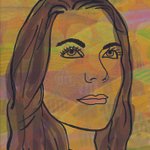 JoAnn Adinolfi
Thank you for visiting my shop! I am a children's book illustrator and writer and have created over 35 picture books. I am presently happily working on MARIE THARP: THE WOMAN WHO MAPPED THE OCEAN FLOOR MacMillan/Ottaviano Books Spring 2020.
When I am not working on my books I like creating designs for my S6 shop!
If you have any questions or want to say hi please contact me. I would love to hear from you.
Please note: A portion of each sale from my Society 6 shop will be donated to the Cometas de Esperanza. Please consider a donation and for more info please visit: https://www.gofundme.com/cometas-de-esperanza
Stay in touch: https://www.joannadinolfi.com http://joannadinolfi.blogspot.com https://www.facebook.com/JoAnnAdinolfiStudio Follow me on Instagram @joann_adinolfi @defiant_grey
Read more