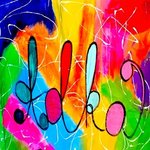 Adka
"The colorful, vivid and above all engaging works of Adka ("Andrea Jones") are character studies written in elaborate, mischievous neon. The artist fills her rainbow-hued canvases with networks of stylized buildings, instruments, bodies or sometimes simply graphic representations of noise or movement. Faces are half-drawn, but possess twice the emotion and expression as compensation. An entire city is reduced to a single piece of iconic architecture, yet through pictorial pattern, color, and dynamic composition the atmosphere and personality of the whole is perfectly conveyed. The trick is Adka's ability to maintain an ordered chaos among the competing elements: she always finds just the right orientation for her tilted ground, the precise angle at which one three-fingered hand should grasp another, and the threshold of stylization that prevents a pared-down object from becoming unrecognizable. The picture, in other words, is made by its details, a fact to which Adka can attest. Recalling the liberating influence of art on her childhood in conformist Communist Slovakia, she remembers her nine-year-old self making drawings in which "up close you could see clearly each tiny object. These objects… would overlap and intertwine and I became lost in the swirl of images." Today these drawings have evolved into expertly executed acrylic and ink works full of movement, music, and delight. Her original and uplifting artwork is internationally exhibited and she is proud to offer her artwork to a growing collector base. Adka joined Society6 on December 2, 2012
More
"The colorful, vivid and above all engaging works of Adka ("Andrea Jones") are character studies written in elaborate, mischievous neon. The artist fills her rainbow-hued canvases with networks of stylized buildings, instruments, bodies or sometimes simply graphic representations of noise or movement. Faces are half-drawn, but possess twice the emotion and expression as compensation.
An entire city is reduced to a single piece of iconic architecture, yet through pictorial pattern, color, and dynamic composition the atmosphere and personality of the whole is perfectly conveyed. The trick is Adka's ability to maintain an ordered chaos among the competing elements: she always finds just the right orientation for her tilted ground, the precise angle at which one three-fingered hand should grasp another, and the threshold of stylization that prevents a pared-down object from becoming unrecognizable.
The picture, in other words, is made by its details, a fact to which Adka can attest. Recalling the liberating influence of art on her childhood in conformist Communist Slovakia, she remembers her nine-year-old self making drawings in which "up close you could see clearly each tiny object. These objects… would overlap and intertwine and I became lost in the swirl of images." Today these drawings have evolved into expertly executed acrylic and ink works full of movement, music, and delight.
Her original and uplifting artwork is internationally exhibited and she is proud to offer her artwork to a growing collector base.
Adka joined Society6 on December 2, 2012.