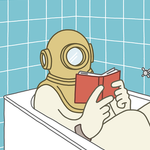 Adolf Rodriguez
Adolf Rodriguez (Barcelona, 1985) Born and raised in Barcelona, Adolf Rodriguez inherits his name from his grandfather Adolfo, a tradition in his family that started with the first dinosaur, the Adolphosaurus. Following a happy childhood surrounded by bread and chocolate, he tries to become an astronaut but he is rejected due to the lack of space. After a Bachelor Degree in Media and Communications and a Degree in Advertising and Public Relations, he finds himself illustrating and animating, "it just happened" he says. Dinosaurs, astronauts and characters with no face are his distinctive trademark. Adolf worked as a Graphic Designer for several companies and NGO's in Barcelona, London and USA. He currently freelances as an Illustrator, Animator and Visual Communicator from Betahaus Barcelona. Adolf Rodriguez joined Society6 on December 22, 2014
More
Adolf Rodriguez (Barcelona, 1985)
Born and raised in Barcelona, Adolf Rodriguez inherits his name from his grandfather Adolfo, a tradition in his family that started with the first dinosaur, the Adolphosaurus. Following a happy childhood surrounded by bread and chocolate, he tries to become an astronaut but he is rejected due to the lack of space. After a Bachelor Degree in Media and Communications and a Degree in Advertising and Public Relations, he finds himself illustrating and animating, "it just happened" he says. Dinosaurs, astronauts and characters with no face are his distinctive trademark.
Adolf worked as a Graphic Designer for several companies and NGO's in Barcelona, London and USA. He currently freelances as an Illustrator, Animator and Visual Communicator from Betahaus Barcelona.
Adolf Rodriguez joined Society6 on December 22, 2014.