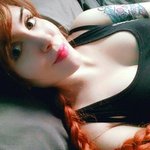 Adriana Game Over
I'm an introverted person. Creativity is a very important tool, as it allows me to express myself. I have a dark sense of humour and I can be perceived as offensive. I paint, draw comics, sculpt, write, sing and practise martial arts. My paintings tend to reflect what's inside my head and my comics portray what I think of the world around me. http://adrianagameover.com/ Adriana Game Over joined Society6 on August 1, 2013
More
I'm an introverted person. Creativity is a very important tool, as it allows me to express myself. I have a dark sense of humour and I can be perceived as offensive. I paint, draw comics, sculpt, write, sing and practise martial arts. My paintings tend to reflect what's inside my head and my comics portray what I think of the world around me.
http://adrianagameover.com/
Adriana Game Over joined Society6 on August 1, 2013.