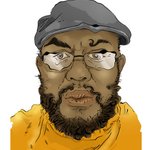 Adrian Hashimi
It is all about the story. Whether painting in oil, drawing digitally or just plain old sketching with a pencil, it is always about the story. I want my viewer to take it from that moment and move the story forward or create their own backstory. Whether we share the a narrative or a different tale, a story has been told. And I hope you enjoyed it. Adrian Hashimi joined Society6 on January 12, 2017
More
It is all about the story. Whether painting in oil, drawing digitally or just plain old sketching with a pencil, it is always about the story.
I want my viewer to take it from that moment and move the story forward or create their own backstory.
Whether we share the a narrative or a different tale, a story has been told.
And I hope you enjoyed it.
Adrian Hashimi joined Society6 on January 12, 2017.