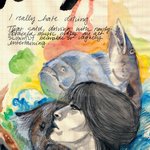 Allison Brown
The way we record and disseminate information in the twenty-first century, from Facebook to e-book, is grossly affected by the existence of the Internet. Similarly, the information that we decide to record – the historical remnants of the early decades of this century, both political and cultural – have been invariably molded by how technology has touched our culture's lives. My paintings exist as the next form of historical document in observing and recording digital pop culture.
---
Allison Brown was born in Indianapolis, Indiana in 1986 and spent her formative years in the suburbs of the Circle City, splitting her leisure time between reading, drawing in the front covers of said books, and "helping" her mother plan their yearly summer holidays to the charming community of Flagstaff, Arizona. It wasn't until her teenage years that she encountered her muse, the Internet, in the form of an AOL subscription; prior to that moment, her exposure to computers were comprised of "Encarta 95," extremely floppy discs, and never getting a turn to play "Oregon Trail" at recess.

Upon matriculating to young adulthood, Allison received her BFA in Painting with Art History minor from the Herron School of Art and Design at Indiana University-Purdue University Indianapolis in Indianapolis, Indiana and her AA with Studio Arts emphasis from Cottey College in Nevada, Missouri. Awards received include the Paul Zimmerman Memorial Endowment for Scholarship in Painting and acceptance into the Herron School of Art and Design Juried Undergraduate Exhibition for 2010, with her work being shown across the Midwest. Her skills in design and painting have been utilized by Cottey College; The Villages Foster Care, Adoption, and Family Services; the Town of Avon, Indiana; and the Mooresville Public Library, Mooresville, Indiana. She (still) lives, works, and plays in central Indiana.

Read more
Allison Brown's Store
4 results
Filter