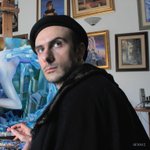 AFan Alessandro Fantini
Alessandro Fantini was born in Sangro Valley, Italy. His creative inclination arose during his early childhood when he began drawing comics and writing tales influenced by gothic authors like Edgar Allan Poe and Sheridan le Fanu. Disliking art school teachings, he learned oil painting techniques by himself and started painting his first canvases in 1993. During the nineties he developed his own visionary style blending the surrealist attitude with hyperrealism and Flemish painting methods. In 2002 he graduated with first class honours in modern literature with a thesis about the relationship between Italian culture and the PreRaphaelism.
Since 1998 he wrote, directed and produced movies and music videos digitally, composing also their soundtracks and writing lyrics for songs performed by himself. His short movies "Tiranti Transit", "Nepente", "The road to Shakti" and "The rain frames" were broadcasted on European Sky Channels between 2006 and 2010. He wrote and illustrated the book "The Night's Veil"(2006) and the dark-fantasy novel "Endometria"(2007) both published by Liberodiscrivere and presented at the International Turin book fair. His self-portrait was published in 2004 inside the Jean Michel Jarre's "Aero" album booklet. His artworks have been shown in several group exhibitions and solo exhibitions in Pescara, Turin and at the London Brick Lane Gallery.
In 2008 he released his first art book entitled "The Sinovial Gaze" covering more than a decade of painting activity. In 2009 he directed and animated the music video of the international jazz musician Lorenzo Tucci's hit "The Sky". In 2010 he directed the feature movie "EDOnism" filmed in Tokyo and produced by Lorenzo Fantini. In 2011 he directed the mystery thriller "Epithell" and the animated music video for the Lorenzo Tucci's single "Hope".
Read more
AFan Alessandro Fantini's Store
Filter