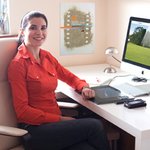 AgaGrandowicz
Designer, illustrator.
Holder of a Masters degree with the highest honours, in graphic design and traditional photography. GIYer. Picture books' collector.
Working on a wide variety of projects and media, crossing a broad range of categories and contributing to each project on many levels – from conceptualisation through photography, graphic design to illustration.
Owner of agrand – a graphic design agency based in Dublin, Ireland (http://agrand.ie/).
Read more
AgaGrandowicz's Store
Filter