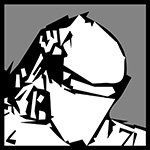 Age Of Warbotica
Preface:
The year is 2087.
Earth's population is at an all time low. With the lack of soldiers to guard resources and territories, Governments have turned to Robots as the key soldier and force to protect their interests. The time of the Warrior Robot is at hand!
Welcome to the Age of Warbotica!
Please visit our website at: http://www.ageofwarbotica.com
Twitter: http://www.twitter.com/ageofwarbotica
"Age of Warbotica" is a special collection of watercolor artwork and illustrations by Jeff Moser, Watercolorist.
"Ever since I was in Junior High School, I wanted to Create a Robotic World. And when creating the initial painting, it was like bringing to life this idea that I had on my mind for all those years." - Jeff Moser, Watercolorist.
This piece along with a few unfinished works began this experiment in watercolor painting. Jeff Moser later shelved the project for seven years, and after completing one of his most challenging commissions to date, he once again considered creating a series of Robotic Warfare-themed artworks. Jeff Moser recalls this turning point in his career.
"It was only just two years ago (2013), that I was asked to do one of my largest, most-complicated, commissioned artworks which became one of the most challenging paintings I had been hired to create thus far. It was an Old Western Town, with an old-time, steam engine train, off in the distance. All of the concept and work had to come from out of my head, and from my client's great ideas. Well, up until then, I never done anything so ambitious from out of my own imagination. After doing that work I seriously thought about going back and creating this world, that I had dreamed about, where Robots roamed the landscape and Battled one another." - Jeff Moser, Watercolorist.
About The Artist:
Jeff Moser began his career as an artist during his junior high school years and has mastered his craft ever since. He started out with sketching and illustration. Eventually he explored the world of painting. He experimented with Oils, Acrylics, Pastels, and even Chalk while doing chalk paintings along sidewalks at outdoor events. But it wasn't until he tried using Watercolors that his true talent emerged. Jeff Moser found that with Watercolor he could really push the boundaries of creativity. Jeff Moser is known for his stunning florals, landscapes, and seascapes. He's done countless commissions with various themes from the mechanical world to the natural world.
Please visit Jeff Moser's Website for more info on his many other themes of watercolor artwork. http://www.jeffmoser.weebly.com
Visit his other Society 6 store at: http://www.society6.com/jeffmoserwatercolorist
All related artwork are the sole property of Jeff Moser, Watercolorist, ©2014-2015.
Read more