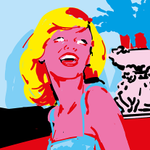 Agnes Ricart
Agnes Ricart is a Spanish Illustrator working with The New York Times and Vanity Fair, amongst many other clients. Her artwork is bold and intense, with a strong sense of color and dynamism. Follow @agnesricart on Instagram and Facebook.
www.agnesricart.com
Read more
Agnes Ricart's Store
Filter
You are currently on society6.com.