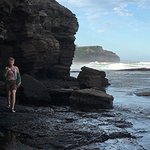 ahahdodo
I live in an area just south of Sydney, Australia, between the mountains and the sea. Abundant bird life, lush gardens and the coastal environment are a constant source of inspiration. I have had many creative adventures including as a potter, botanical artist, graphic designer, jewellery maker, and now as a digital illustrator. I begin all my art work with a drawing which is then scanned and completed with digital drawing software. ahahdodo joined Society6 on April 8, 2017
More
I live in an area just south of Sydney, Australia, between the mountains and the sea. Abundant bird life, lush gardens and the coastal environment are a constant source of inspiration.
I have had many creative adventures including as a potter, botanical artist, graphic designer, jewellery maker, and now as a digital illustrator. I begin all my art work with a drawing which is then scanned and completed with digital drawing software.
ahahdodo joined Society6 on April 8, 2017.