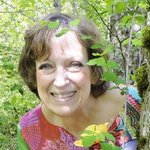 MaryElaineDeGood
I am working on making available the photographs, taken by me, personally, for my book about the Faeries of Mt. Baker. The United Tribes of Faeries have given me exclusive permission to photograph the members of the Bellingham Faerie Guild in their fields of expertise. It is a very special camera, given to me by the President of the Guild, as it is the only camera that can capture the faeries in a still picture. You will notice the faeries are a diverse group and love to show the humans what they are up to. They all work somewhere, secretly, in the foothills of the forest that surround the slumbering volcano of Mt. Baker. I am sworn to secrecy and there is no magic you can use to make me tell...none....at all....so stop trying.... There are also are the insects of the faerie forest....Boogle Bugs....all very beneficial to the support of the forest. I will also be making their exclusive surface designs available and each one will be by that particular faerie. MaryElaineDeGood joined Society6 on September 6, 2013
More
I am working on making available the photographs, taken by me, personally, for my book about the Faeries of Mt. Baker. The United Tribes of Faeries have given me exclusive permission to photograph the members of the Bellingham Faerie Guild in their fields of expertise.
It is a very special camera, given to me by the President of the Guild, as it is the only camera that can capture the faeries in a still picture.
You will notice the faeries are a diverse group and love to show the humans what they are up to.
They all work somewhere, secretly, in the foothills of the forest that surround the slumbering volcano of Mt. Baker. I am sworn to secrecy and there is no magic you can use to make me tell...none....at all....so stop trying....
There are also are the insects of the faerie forest....Boogle Bugs....all very beneficial to the support of the forest.
I will also be making their exclusive surface designs available and each one will be by that particular faerie.
MaryElaineDeGood joined Society6 on September 6, 2013.
MaryElaineDeGood's Store
93 results
Filter