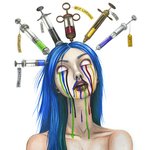 Aisha Diandra
Visual artist & craftswoman.
Eurasian hybrid, raised mostly in the surreal and grungy metropolis of Jakarta, Indonesia, where beauty and ugliness collides.
Mostly self-taught in photography, drawing, design, and sewing. Studied several things at Savannah College of Art & Design between 2008-2009, before transferring to RMIT University to study photography between 2010-2013.
Currently in Melbourne, Australia.
Read more