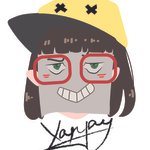 AJ Yanjay
Hello there! I'm AJ Yanjay and I'm happy to see you here (◡‿◡) I'm a digital artist majoring in comics. I draw a lot of fanart and sometimes original art too! Go ahead, check out my goods c: I hope you'll find something to your liking! c: AJ Yanjay joined Society6 on January 22, 2017
More
Hello there! I'm AJ Yanjay and I'm happy to see you here (◡‿◡) I'm a digital artist majoring in comics. I draw a lot of fanart and sometimes original art too! Go ahead, check out my goods c:
I hope you'll find something to your liking! c:
AJ Yanjay joined Society6 on January 22, 2017.