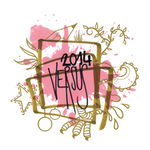 Akaversus
Since she recently graduated at the University (Bachelor of Arts, HHU Düsseldorf) she is working as a freelancer of graphic design. Apart from creating illustrations and layouts within the range of print- and online media, Marina Loop is doing comics and acrylic paintings. She is interested in fairy tales and cartoons that were made for children. But she also favorites lots of horror or macabre media, so she tries to combine those very different addictions. That's why the most of drawings and comics are kind of gloomy and black humored. The mix of cute and dark ideas is the essence of her style. This explains her artistic Name 'Versus' oder 'Aka Versus' Such artists as Jhonen Vasquez, Tim Burton, Tove Jansson, Tsutomu Nihei, Alberto Giacometti and Giger give an aspect of inspiration. Contact: info@madebyloop.de Akaversus joined Society6 on October 1, 2014
More
Since she recently graduated at the University (Bachelor of Arts, HHU Düsseldorf) she is working as a freelancer of graphic design.
Apart from creating illustrations and layouts within the range of print- and online media, Marina Loop is doing comics and acrylic paintings. She is interested in fairy tales and cartoons that were made for children. But she also favorites lots of horror or macabre media, so she tries to combine those very different addictions. That's why the most of drawings and comics are kind of gloomy and black humored. The mix of cute and dark ideas is the essence of her style. This explains her artistic Name 'Versus' oder 'Aka Versus' Such artists as Jhonen Vasquez, Tim Burton, Tove Jansson, Tsutomu Nihei, Alberto Giacometti and Giger give an aspect of inspiration.
Contact: info@madebyloop.de
Akaversus joined Society6 on October 1, 2014.