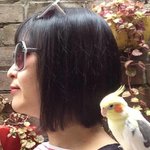 akolamble
"Be Creative and Kind" – that's always in my mind when I produce any form of the artworks. To me Creativity is not a huge deal but an ability to make your life and other's better each day with a small thing. I was born and grew up in Okinawa Japan, graduated the Photography college in Tokyo then moved in Sydney Australia in 1994 and have lived here till now. akolamble joined Society6 on February 17, 2013
More
"Be Creative and Kind" – that's always in my mind when I produce any form of the artworks. To me Creativity is not a huge deal but an ability to make your life and other's better each day with a small thing.
I was born and grew up in Okinawa Japan, graduated the Photography college in Tokyo then moved in Sydney Australia in 1994 and have lived here till now.
akolamble joined Society6 on February 17, 2013.