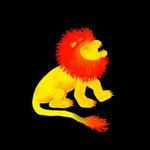 Alana Goodewyn (Lionsong Creations)
I'm just a science-minded, musically-inclined seminarian with a penchant for arts & crafts of all kinds. This is the first time I've ever really tried to sit down and paint things for real, so bear with me while I figure out what I'm good at and what we should all pretend never happened. ;) I'm also going to experiment some with photography, so I'll have some prints of that up in a collection as well. But, the most important thing for you to know is that this is a 50/50 page. What's that, you ask? Well, basically it means that 50% of my earnings from society6 will go to me (and more painting supplies), and 50% will be sent to the charity of my choice. I'll be rotating that 50% among Unicef, World Vision, and The Feed Truck (and if you can figure out how to send me a message, I'd be happy to send the 50% from your purchase to whichever of those three you prefer, but I haven't figured out if it's possible to message people yet). Follow me on Facebook at: https://www.facebook.com/lionsongcreations. Alana Goodewyn (Lionsong Creations) joined Society6 on October 5, 2014
More
I'm just a science-minded, musically-inclined seminarian with a penchant for arts & crafts of all kinds. This is the first time I've ever really tried to sit down and paint things for real, so bear with me while I figure out what I'm good at and what we should all pretend never happened. ;) I'm also going to experiment some with photography, so I'll have some prints of that up in a collection as well.
But, the most important thing for you to know is that this is a 50/50 page. What's that, you ask? Well, basically it means that 50% of my earnings from society6 will go to me (and more painting supplies), and 50% will be sent to the charity of my choice. I'll be rotating that 50% among Unicef, World Vision, and The Feed Truck (and if you can figure out how to send me a message, I'd be happy to send the 50% from your purchase to whichever of those three you prefer, but I haven't figured out if it's possible to message people yet).
Follow me on Facebook at: https://www.facebook.com/lionsongcreations.
Alana Goodewyn (Lionsong Creations) joined Society6 on October 5, 2014.