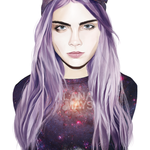 Alana Mays Creative
Hi there! I'm a freelance Illustrator/ Designer from New Zealand but am now currently living in Australia. I gained my degree from Massey University (Wellington, N.Z) in 2012 with a Bachelor of Design degree. I specialise in drawing, painting and graphic design. This mixture of skills allows me to design using both digital and traditional mediums. I am available for free lance illustrations and graphic design within Australia and Nz as well as Internationally. Contact me by email and we can discuss your project and ideas. If you want an illustration/ portrait custom made or if you like something in my store but want adjustments made to it or would like to see it on another product then contact me by email. Alana Mays Creative joined Society6 on May 17, 2014
More
Hi there! I'm a freelance Illustrator/ Designer from New Zealand but am now currently living in Australia. I gained my degree from Massey University (Wellington, N.Z) in 2012 with a Bachelor of Design degree.
I specialise in drawing, painting and graphic design. This mixture of skills allows me to design using both digital and traditional mediums.
I am available for free lance illustrations and graphic design within Australia and Nz as well as Internationally. Contact me by email and we can discuss your project and ideas.
If you want an illustration/ portrait custom made or if you like something in my store but want adjustments made to it or would like to see it on another product then contact me by email.
Alana Mays Creative joined Society6 on May 17, 2014.