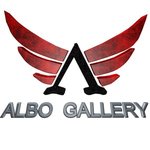 Albo Gallery
Cultural society '' ALBO GALLERY '' is an association, which aims to create a database of all Albanian and foreign artists. Promoting and selling their creations through specialized networks of contemporary art, the auction houses, the official website of thanks and various social networks under the auspices of the Cultural Society '' ALBO GALLERY '' etc ... The activity of the company is built on several counts: a) Summary in a single corpus of all the artists participating. b) promotion of their artistic works in various techniques; painting, photography, sculpture, poster, jewelry, folk costumes, lace, etc ... c) Sale of works through specialized networks at satisfying art. d) Opening an annual exhibition in one of the important museums in Tirana, with all artists Cultural Society '' ALBO GALLERY '' cooperates, as well as the separation of the respective prices. e) The creation of a network of liaison interactive artistic experiences exchange between artists Cultural Society '' ALBO GALLERY ''. f) organization of exhibitions of visual art and craft, in Tirana Skopje, Pristina and cooperation with other galleries nationally and internationally. . g) participate in various projects, national, regional, European and world. Gratitude to all worshipers of art anywhere in the world. feel happy for your visit to our site and to frekunetimin of our creations and purchase, we offer you fantastic and original creations with fantastic prizes: (paintings, drawings, sculpture, carving on stone, jewelry from hands our arts, costumes , porcelain, artistic photographs by professional photographer, various works of art made by hand. Albo Gallery joined Society6 on July 4, 2015
More
Cultural society '' ALBO GALLERY '' is an association, which aims to create a database of all Albanian and foreign artists.
Promoting and selling their creations through specialized networks of contemporary art, the auction houses, the official website of thanks and various social networks under the auspices of the Cultural Society '' ALBO GALLERY '' etc ...
The activity of the company is built on several counts:
a) Summary in a single corpus of all the artists participating.
b) promotion of their artistic works in various techniques; painting, photography, sculpture, poster, jewelry, folk costumes, lace, etc ...
c) Sale of works through specialized networks at satisfying art.
d) Opening an annual exhibition in one of the important museums in Tirana, with all artists Cultural Society '' ALBO GALLERY '' cooperates, as well as the separation of the respective prices.
e) The creation of a network of liaison interactive artistic experiences exchange between artists Cultural Society '' ALBO GALLERY ''. f) organization of exhibitions of visual art and craft, in Tirana Skopje, Pristina and cooperation with other galleries nationally and internationally. . g) participate in various projects, national, regional, European and world.
Gratitude to all worshipers of art anywhere in the world. feel happy for your visit to our site and to frekunetimin of our creations and purchase, we offer you fantastic and original creations with fantastic prizes: (paintings, drawings, sculpture, carving on stone, jewelry from hands our arts, costumes , porcelain, artistic photographs by professional photographer, various works of art made by hand.
Albo Gallery joined Society6 on July 4, 2015.