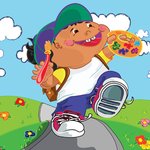 Alejandra Dirzo
Alejandra Dirzo was born and raised in Chicago. At a young age she was always drawing, but it wasn't until high school that she decided to focus in art. Once she graduated, she knew that her passion remained in art and so it was clear that she would make a career out of it. Her inspirations are other artists, movies, and comic books. She attended and graduated from the American Academy of Art with a BFA in Illustration and is currently freelancing. In the future she hopes to publish books and advertisements relating to children. People that have inspired her are: Family, friends, artists, and music. Medium she mostly works with are: watercolors, ink, pen, and pencil. Other mediums I work with are: charcoal, acrylic, pastels, color pencils, clay, spray paint, and other. She has created original art, fan art, painted/drawn/sculptor from still life/models, stencils and other. Check out my Facebook page! Give it a Like: www.facebook.com/artbyaledirzo or at www.artofalejandradirzo.carbonmade.com Alejandra Dirzo joined Society6 on September 4, 2013
More
Alejandra Dirzo was born and raised in Chicago. At a young age she was always drawing, but it wasn't until high school that she decided to focus in art. Once she graduated, she knew that her passion remained in art and so it was clear that she would make a career out of it. Her inspirations are other artists, movies, and comic books. She attended and graduated from the American Academy of Art with a BFA in Illustration and is currently freelancing. In the future she hopes to publish books and advertisements relating to children.
People that have inspired her are: Family, friends, artists, and music.
Medium she mostly works with are: watercolors, ink, pen, and pencil. Other mediums I work with are: charcoal, acrylic, pastels, color pencils, clay, spray paint, and other.
She has created original art, fan art, painted/drawn/sculptor from still life/models, stencils and other. Check out my Facebook page! Give it a Like: www.facebook.com/artbyaledirzo or at www.artofalejandradirzo.carbonmade.com
Alejandra Dirzo joined Society6 on September 4, 2013.