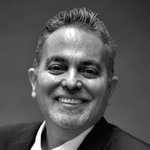 Alejandro Soria
LIFE GAVE ME A SECOND CHANCE TO FILL ME UP WITH COLOR
I'm Alejandro Soria, a visual artist born in Mexico, where I studied graphic design, and afterwards, a master's degree at the Savannah College of art and Design.
In 2001, a successful brain surgery gave me a second shot at revaluating my life's decisions. I decided to start over and chose to make a living out of something I'd always wanted to do but never had the time to: Painting.
Nowadays I'm an explorer of color and faithful follower of the composition, I'm an artist committed to art and proud of my Mexican heritage.
www.alejandrosoria.com
facebook.com/alejandrosoria/artistavisual
instagram: @alejandrosoria_arte
Read more