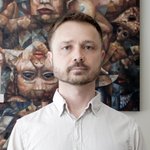 Alex Lavrov
Artist Statement:
Art is the means to satisfy my creative hunger, to release my inner flow of colors and shapes and transfer it to a canvas. I look at the outcome on the canvas like at my reflection in the mirror and wonder what it is all about. Maybe one day I will solve the mystery of the "self", uncover the deep secrets of my subconscious.
My art has nothing to do with pop culture, traditions, politics or religion. It is only the expression of my inner self.
I work mainly with oil paints on canvas and ink pens on paper. My dominant styles are Cubism, Expressionism, Surrealism, and Symbolism or a mixture of these.
I also appreciate humor and it can be seen in some of my works as it shines through ever so subtly.
Most of the artworks are done in full or half improvisational styles. Fully improvisational way means there is no predetermined path for the creative process, no image in the head of what the painting is going to look like. Half improvisation means that there is a vague idea or an approximate goal in mind, but there is no definite path to get to that point.
Biography:
I was born in 1981 in Simferopol, a Southern Ukrainian city that nowadays belongs to Russia. It is a city within the vicinity of the Black Sea.
My early life was spent living in the so called "Eastern European slums", being programmed to be a communist in school and also at home. Fortunately, the communist regime ended in 1991 with the collapse of the Soviet Union. The older society began seeking a new identity. As a child, the only thing I could do at the time was to witness the constant resistance between the older and the newer generations, mass confusion and the growth of the "free market".
This social revolution had a great impact on my persona. It essentially freed me from any hope and belief that I could rely on any political system for my well-being, which is something that I'm grateful for.
Ever since I was young, I have been interested in the arts. As I became an adult, I decided to take my passion to the next level. At the age of 16, I went to study art at Samokish Art School, but never had a chance to complete my studies, as I had the opportunity to move to Israel, which enabled me to vacate the post-communist chaos.
In the new country I continued to develop my creative potential while supporting my livelihood. I took various visual art classes and courses and also received a diploma in 3D Design and Animation
Finally, in 2007, I moved to Vancouver, Canada, which is presently my home and the place I continue my artistic mission.
http://AlexLavrovArt.com/
Thank you.
Read more
Hoodies by Alex Lavrov
3 results
Filter
Department

Dept

Apparel & Bags