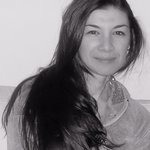 Alemi
Hello, my name is Alessandra. I begin my artistic career with figurative and abstract painting, until my personal growth led me to experiment new techniques, finding in the graphic design a new way to communicate my mood and feelings. I draw inspiration mainly from nature and animals. https://alemisart.com https://www.instagram.com/alemiprints/ https://www.pinterest.com/alemiprints/ https://www.facebook.com/alemiprints/ Alemi joined Society6 on February 1, 2017
More
Hello, my name is Alessandra. I begin my artistic career with figurative and abstract painting, until my personal growth led me to experiment new techniques, finding in the graphic design a new way to communicate my mood and feelings. I draw inspiration mainly from nature and animals.
https://alemisart.com https://www.instagram.com/alemiprints/ https://www.pinterest.com/alemiprints/ https://www.facebook.com/alemiprints/
Alemi joined Society6 on February 1, 2017.