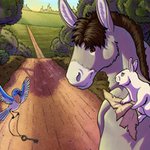 AlesBrewery
Hello! Thank you for taking the time to browse through my artwork. It's great to see all of the possibilities my art has for Society6, as well as seeing everyone else's wonderful work! I hope you'll find something you'll like. Have a pleasant day. If you would like to see more artwork that I don't post up here, feel free to check out my other pages: Deviant Art: http://wheresmyale.deviantart.com/ FurAffinity: http://www.furaffinity.net/user/wheresmyale/ Tumblr: http://wheresmyale.tumblr.com/ AlesBrewery joined Society6 on September 14, 2015
More
Hello! Thank you for taking the time to browse through my artwork. It's great to see all of the possibilities my art has for Society6, as well as seeing everyone else's wonderful work! I hope you'll find something you'll like. Have a pleasant day.
If you would like to see more artwork that I don't post up here, feel free to check out my other pages:
Deviant Art: http://wheresmyale.deviantart.com/ FurAffinity: http://www.furaffinity.net/user/wheresmyale/ Tumblr: http://wheresmyale.tumblr.com/
AlesBrewery joined Society6 on September 14, 2015.