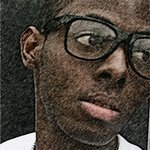 Alexandre
Born in Cameroon, grown up across the world, from Kinshasa,Nairobi and Yaoundé, to Nice, Paris and Rome. Self taught artist/designer and photographer currently finishing an MSc in International Management. Based in Bristol, U.K. Artist, Thinker, Lover, Fighter, Dreamer, Believer, Rebel. @OrigamiBandit www.brightlightsandmagic.tumblr.com www.facebook.com/Origami.Bandits Alexandre joined Society6 on March 11, 2012
More
Born in Cameroon, grown up across the world, from Kinshasa,Nairobi and Yaoundé, to Nice, Paris and Rome. Self taught artist/designer and photographer currently finishing an MSc in International Management. Based in Bristol, U.K.
Artist, Thinker, Lover, Fighter, Dreamer, Believer, Rebel.
@OrigamiBandit www.brightlightsandmagic.tumblr.com www.facebook.com/Origami.Bandits
Alexandre joined Society6 on March 11, 2012.