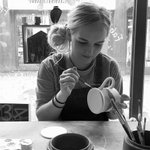 alexandradyer
A creative printed textile designer, located in the Midlands, UK, De Montfort University graduate, interested in designing for interiors and homewares. Applying an active appreciation of nature to works, with well established observational skills and an ease of free hand drawing with obscure tools, strong capability to draw loose and tight. Experimental with ideas, technique and diverse materials, employing designs to fabrics visualising them in a physical form. Expertise in various print processes including silk screen, digital and dyeing, fascinated with layering screen print techniques over digitally printed fabric combining techniques to produce interesting surfaces. alexandradyer joined Society6 on November 18, 2017
More
A creative printed textile designer, located in the Midlands, UK, De Montfort University graduate, interested in designing for interiors and homewares. Applying an active appreciation of nature to works, with well established observational skills and an ease of free hand drawing with obscure tools, strong capability to draw loose and tight. Experimental with ideas, technique and diverse materials, employing designs to fabrics visualising them in a physical form.
Expertise in various print processes including silk screen, digital and dyeing, fascinated with layering screen print techniques over digitally printed fabric combining techniques to produce interesting surfaces.
alexandradyer joined Society6 on November 18, 2017.