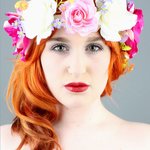 Alexandra M L Webster
I'm a twenty three year old freelance photographer, based in Cornwall and Derbyshire. I'm currently studying BA(Hons) Photography at Falmouth University, and in my second year. Having lost my health at eighteen, due to fibromyalgia and chronic fatigue syndrome, I found solace in taking photographs, which quickly grew in to a passion. Spending all my time with a camera in hand, and a pencil in the other, I now create art as I couldn't imagine doing anything else with my life! I produce a variety of work ranging across multiple genres of photography and art. All profits made from what I sell on here goes towards my university, I'm unable to work because of my health and hopefully will be able to make a little money on here to fund photoshoots and living costs. Thank you so much to anyone who takes to the time to browse through my little shop, and a massive thank you and a hug to anyone who purchases anything!! Alexandra (: xo http://alexandramlwebster.4ormat.com/ Alexandra M L Webster joined Society6 on May 20, 2014
More
I'm a twenty three year old freelance photographer, based in Cornwall and Derbyshire. I'm currently studying BA(Hons) Photography at Falmouth University, and in my second year.
Having lost my health at eighteen, due to fibromyalgia and chronic fatigue syndrome, I found solace in taking photographs, which quickly grew in to a passion. Spending all my time with a camera in hand, and a pencil in the other, I now create art as I couldn't imagine doing anything else with my life!
I produce a variety of work ranging across multiple genres of photography and art. All profits made from what I sell on here goes towards my university, I'm unable to work because of my health and hopefully will be able to make a little money on here to fund photoshoots and living costs.
Thank you so much to anyone who takes to the time to browse through my little shop, and a massive thank you and a hug to anyone who purchases anything!!
Alexandra (: xo
http://alexandramlwebster.4ormat.com/
Alexandra M L Webster joined Society6 on May 20, 2014.