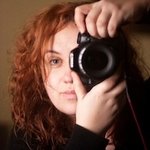 Alexandra Pandrea
Hi, everybody! I am Alexandra Pandrea, a freelance photographer based in Bucharest, Romania. I graduated the University of Journalism and pursued on my own several photography courses, aiming to improve my technical abilities for both field and studio projects. As an independent photographer, I am a shutter-bug. I am there, be it musical or socio-political events or personal stories. I enjoy being where it matters and capturing the right shot at the right moment, so photojournalism seems to be my best fit, but I also enjoy capturing emotional moments in family portraits and life stories. I am the official photographer of Lente & cafea, a coffee shop based in Bucharest, photographing menus, events, people. I recently started collaborating with Mediafax press agency, national leader in press photography, and I am looking for that perfect job, working for that perfect magazine. Since April 2011, I am collaborating with Intact Images as a freelance photojournalist. You can see more of my images on my site, on alexandrapandrea.ro Welcome, I hope you will enjoy your visit! Alexandra Pandrea joined Society6 on October 5, 2012
More
Hi, everybody!
I am Alexandra Pandrea, a freelance photographer based in Bucharest, Romania. I graduated the University of Journalism and pursued on my own several photography courses, aiming to improve my technical abilities for both field and studio projects.
As an independent photographer, I am a shutter-bug. I am there, be it musical or socio-political events or personal stories. I enjoy being where it matters and capturing the right shot at the right moment, so photojournalism seems to be my best fit, but I also enjoy capturing emotional moments in family portraits and life stories.
I am the official photographer of Lente & cafea, a coffee shop based in Bucharest, photographing menus, events, people. I recently started collaborating with Mediafax press agency, national leader in press photography, and I am looking for that perfect job, working for that perfect magazine. Since April 2011, I am collaborating with Intact Images as a freelance photojournalist.
You can see more of my images on my site, on alexandrapandrea.ro
Welcome, I hope you will enjoy your visit!
Alexandra Pandrea joined Society6 on October 5, 2012.