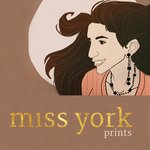 Miss York Prints
My love for the camera began in a dark room printing black and white photos from my mother's 35mm Olympus. When I moved to Los Angeles I picked up my first digital SLR and used it to explore and learn about the city. I enjoy visiting places less-traveled and photographing that which not many people would stop long enough to notice. When I'm not at work or out and about, I enjoy sourdough bread baking, making homemade pasta and gardening. Miss York Prints joined Society6 on November 9, 2013
More
My love for the camera began in a dark room printing black and white photos from my mother's 35mm Olympus. When I moved to Los Angeles I picked up my first digital SLR and used it to explore and learn about the city. I enjoy visiting places less-traveled and photographing that which not many people would stop long enough to notice.
When I'm not at work or out and about, I enjoy sourdough bread baking, making homemade pasta and gardening.
Miss York Prints joined Society6 on November 9, 2013.