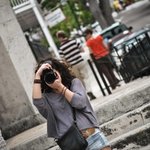 Alex DZ
Being a highly creative soul, I have always had a special interest in design and the visual arts. My passion for photography however developed later in life during a trip to New York City, which was a catalyst for my creativity. The infusion of energy surrounding me and the colour and character contained within the streets were intoxicating. While walking through the city, a peak through a window at the right moment triggered something resembling a revelation. What if there were windows everywhere? What if those windows were frames? Since then, I've been seeing the world in frames, capturing those peaks through my imaginary windows. My journey started with a disposable camera, with which the most technical element was removing the plastic wrapping. With no formal training, I simply did not understand the technicalities that go into taking pictures. I did not take things like lighting or aperture into account. I seemed to have an innate eye for composition and, well… I simply just loved taking pictures. I eventually purchased a 35mm Nikon FM10 and soon after moved on to a DSLR. I take something special away from every picture, capturing a moment, an emotion, a facial expression, a hidden treasure. The subject matter of my images ranges between people, architecture, urban scenes and macro nature shots. I try to convey a certain intensity through the use and superimposition of colour or through an emotion portrayed by a facial expression or a moment in time. I continue to chase the high of capturing my next best shot. It has become an addiction, which I simply refuse to wean myself off of. I was born and raised in Montreal and am currently living in Toronto. After studying marketing and graphic design, I worked in advertising for 19 years and as a freelancer for 8 years. Today I run my own visual design company. Alex DZ joined Society6 on October 29, 2015
More
Being a highly creative soul, I have always had a special interest in design and the visual arts. My passion for photography however developed later in life during a trip to New York City, which was a catalyst for my creativity.
The infusion of energy surrounding me and the colour and character contained within the streets were intoxicating. While walking through the city, a peak through a window at the right moment triggered something resembling a revelation.
What if there were windows everywhere? What if those windows were frames? Since then, I've been seeing the world in frames, capturing those peaks through my imaginary windows.
My journey started with a disposable camera, with which the most technical element was removing the plastic wrapping. With no formal training, I simply did not understand the technicalities that go into taking pictures.
I did not take things like lighting or aperture into account. I seemed to have an innate eye for composition and, well… I simply just loved taking pictures. I eventually purchased a 35mm Nikon FM10 and soon after moved on to a DSLR.
I take something special away from every picture, capturing a moment, an emotion, a facial expression, a hidden treasure. The subject matter of my images ranges between people, architecture, urban scenes and macro nature shots.
I try to convey a certain intensity through the use and superimposition of colour or through an emotion portrayed by a facial expression or a moment in time. I continue to chase the high of capturing my next best shot. It has become an addiction, which I simply refuse to wean myself off of.
I was born and raised in Montreal and am currently living in Toronto. After studying marketing and graphic design, I worked in advertising for 19 years and as a freelancer for 8 years. Today I run my own visual design company.
Alex DZ joined Society6 on October 29, 2015.