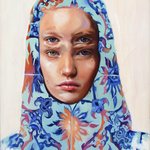 Alex Garant
Artist Alex Garant was born in Quebec City and graduated from the Notre-Dame –De-Foy Visual Art program in 2001. She currently resides in Toronto, Canada, where the influx of art and culture in the city surround and motivate her every day.
Her oil works offer a graphic quality combined with traditional portrait techniques. She is greatly inspired by early ink printing, vintage pop surrealism and retro kitsch, with a penchant for utilizing outside of the box imagery to create a piece that while it may not be the literal definition of beauty, embodies it.
Her current works figuratively refer to carnival head-in-the-hole boards where you can step into a different colourful reality. Each piece gives a look into what encompasses the world; a bit of truth, with a canvas of mystery consumming it.
For more information visit alexgarant.com instagram.com/alexgarantart twitter.com/alexgarantart
Read more