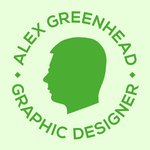 Alex Greenhead
Hello there and thank you for visiting! I'm a graphic designer and illustrator based in the south-east of England. I have many interests and am inspired by many things! I create my designs using a variety of techniques and have a lot of fun doing so. If you're interested in knowing more about me, you can visit the links below. www.alexgreenhead.wordpress.com www.facebook.com/alexgreenheaddesign www.twitter.com/alexgreenhead www.instagram.com/alexgreenhead www.pinterest.com/alexgreenhead Alex Greenhead joined Society6 on May 4, 2015
More
Hello there and thank you for visiting! I'm a graphic designer and illustrator based in the south-east of England. I have many interests and am inspired by many things! I create my designs using a variety of techniques and have a lot of fun doing so.
If you're interested in knowing more about me, you can visit the links below. www.alexgreenhead.wordpress.com www.facebook.com/alexgreenheaddesign www.twitter.com/alexgreenhead www.instagram.com/alexgreenhead www.pinterest.com/alexgreenhead
Alex Greenhead joined Society6 on May 4, 2015.