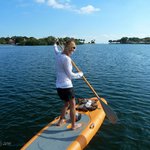 Alexis Meyer
Alexis Meyer has had both formal and informal training in photography, constantly challenging herself, and has expanded from strictly nature shots to portraits and documentary photography. Alex has had art exhibitions in Sydney, Australia and the Tampa Bay Area. As well as being published in Australian Geographic, she also publishes photo essays and articles for New Roots News and numerous conservation campaigns.
Read more
Alexis Meyer's Store
Filter
You are currently on society6.com.