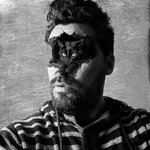 Alex Usquiano
Alex Usquiano was born in Quimbaya Quindío Colombia. At an early age he accessed diverse forms of art and creation; in his journey, he became involved with photography and audiovisual arts among other expressions. Then, he used these experiences to communicate his message; he did it very well, both, artistically and professionally. Throughout his creative life, Usquiano has used photographs to express his artistic impulses as well as to leave a record of his journey through diverse regions of Colombia: Quindío; his own land, urban and rural locations. The Amazon, in particular, dazzles with its exuberant vegetation. Leaving a record or being a witness is not what motivates him; Usquiano knows that ultimately and as said by Du Bois: "Photography is a way, an instrument of which all the senses are engaged". Here is where photography's mimetic character vanishes and opens the room to Usquiano's surrealist artwork, to his creations influenced by new technologies, inventions and explorations of this generation allowing him to create an illusion departing from a real referent; an example of this is shown in Usquiano's artwork: Coordernadas Polares (Polar Coordinates) where through photo manipulation a blowing mind effect is created, an effect that plays with the spectator's perception. His interest in art and its diverse forms have taken him to the world of theatre, these experience are captured in his compositions which are marked by a strong historic accent, where make up and well prepared sets create a coherent and harmonic scene which are presented as intimate meetings that describes unusual experiences; all these possible, due to his impressive innovative capability and his knowledge of digital media. To summarize, Alex Usquiano's artwork evokes several traditions and technical elections which merged, results in a proposal that knocks the doors of imagination and enters the pictorial premises of fantasy, showing it through unexpected scenes which are composed in series that navigate between the historic and the illusory. Alex Usquiano joined Society6 on April 1, 2014
More
Alex Usquiano was born in Quimbaya Quindío Colombia. At an early age he accessed diverse forms of art and creation; in his journey, he became involved with photography and audiovisual arts among other expressions. Then, he used these experiences to communicate his message; he did it very well, both, artistically and professionally.
Throughout his creative life, Usquiano has used photographs to express his artistic impulses as well as to leave a record of his journey through diverse regions of Colombia: Quindío; his own land, urban and rural locations. The Amazon, in particular, dazzles with its exuberant vegetation.
Leaving a record or being a witness is not what motivates him; Usquiano knows that ultimately and as said by Du Bois: "Photography is a way, an instrument of which all the senses are engaged". Here is where photography's mimetic character vanishes and opens the room to Usquiano's surrealist artwork, to his creations influenced by new technologies, inventions and explorations of this generation allowing him to create an illusion departing from a real referent; an example of this is shown in Usquiano's artwork: Coordernadas Polares (Polar Coordinates) where through photo manipulation a blowing mind effect is created, an effect that plays with the spectator's perception.
His interest in art and its diverse forms have taken him to the world of theatre, these experience are captured in his compositions which are marked by a strong historic accent, where make up and well prepared sets create a coherent and harmonic scene which are presented as intimate meetings that describes unusual experiences; all these possible, due to his impressive innovative capability and his knowledge of digital media.
To summarize, Alex Usquiano's artwork evokes several traditions and technical elections which merged, results in a proposal that knocks the doors of imagination and enters the pictorial premises of fantasy, showing it through unexpected scenes which are composed in series that navigate between the historic and the illusory.
Alex Usquiano joined Society6 on April 1, 2014.
Alex Usquiano's Store
61 results
Filter