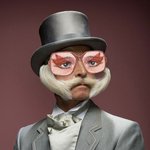 Alfredo Lietor
Alfredo Lietor went to University to study Visual Communication. He has a camera and likes to take pictures. He also has a mobile phone with built in camera and takes pictures with it too. Alfredo Lietor has a computer and likes to play with it. He likes music a lot, and has listened to more than 100.000 tracks. Alfredo Lietor is now studying Music and learning how to play piano, guitar, theremin and ocarina. He is also an accidental Björk's contributor. Alfredo Lietor likes salmon and Slava Mogutin. www.alfredolietor.com Alfredo Lietor joined Society6 on December 22, 2009
More
Alfredo Lietor went to University to study Visual Communication. He has a camera and likes to take pictures. He also has a mobile phone with built in camera and takes pictures with it too. Alfredo Lietor has a computer and likes to play with it. He likes music a lot, and has listened to more than 100.000 tracks. Alfredo Lietor is now studying Music and learning how to play piano, guitar, theremin and ocarina. He is also an accidental Björk's contributor. Alfredo Lietor likes salmon and Slava Mogutin.
www.alfredolietor.com
Alfredo Lietor joined Society6 on December 22, 2009.
Prints by Alfredo Lietor
49 results
Filter