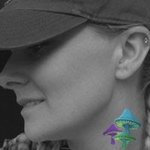 Alice Graphix
Alice Graphix is the name under which Jen K does her thing. What that thing is no one is really sure, but the art looks pretty darn good from here. www.AliceGraphix.com Feel free to stalk me socially as well! Twitter: https://twitter.com/alicegraphix Facebook: https://www.facebook.com/AliceGraphix Tumblr: http://tumblr.alicegraphix.com Behance: http://www.behance.net/AliceGraphix Flickr: http://www.flickr.com/people/alicegraphix/ DeviantART: http://alicegraphix.deviantart.com/ Alice Graphix joined Society6 on November 19, 2010
More
Alice Graphix is the name under which Jen K does her thing. What that thing is no one is really sure, but the art looks pretty darn good from here.
www.AliceGraphix.com
Feel free to stalk me socially as well!
Twitter: https://twitter.com/alicegraphix Facebook: https://www.facebook.com/AliceGraphix Tumblr: http://tumblr.alicegraphix.com Behance: http://www.behance.net/AliceGraphix Flickr: http://www.flickr.com/people/alicegraphix/ DeviantART: http://alicegraphix.deviantart.com/
Alice Graphix joined Society6 on November 19, 2010.