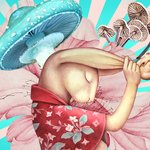 Alice Lin
Rising from dreams and her powerful imagination, the works of Beijing based artist Alice Lin are truly astonishing, highly detailed and revealing the universe of the mind, where all sorts of fantastic creatures – rabbits, goats, swans – coexist. This new and fascinating wonderland of possible realities combines with the human figure enforcing emotions. Alice Lin joined Society6 on September 18, 2014
More
Rising from dreams and her powerful imagination, the works of Beijing based artist Alice Lin are truly astonishing, highly detailed and revealing the universe of the mind, where all sorts of fantastic creatures – rabbits, goats, swans – coexist.
This new and fascinating wonderland of possible realities combines with the human figure enforcing emotions.
Alice Lin joined Society6 on September 18, 2014.