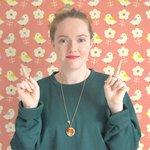 Alice Rebecca Potter
Hello! My name is Alice Rebecca Potter. I am a designer and illustrator living and working in London, England. With a love of the hand drawn and beautiful, graphic elements I produce illustrations based on the natural world. Birds, animals, landscapes, and geometric patterns feature strongly in my work. I have a background in Textile Design and enjoy seeing my work transferred to a variety of surfaces!
I studied my craft at Chelsea College of Art and Design where I also met some wonderful people and learnt some stuff. After graduating in 2008, I have slowly honed my skills and am really enjoying what I do now and I look forward to developing and growing over the years to come.
One day, I would love to own a shop with a studio attached, and living accommodation above, with a dog and a cat or two.
I love to hear from people all the time, and am open to commissions for editorial, publishing, surface pattern design (anything really). Please get in touch
http://alicepotter.co.uk/
Read more
Cards by Alice Rebecca Potter
24 results
Filter