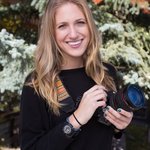 AliciaCarter
I have recently figured out that I don't make photographs, my photographs make me. After graduating from the University of Denver last year I have spent most of my time photographing. These are a collection of my images from my life in Colorado, travels in my Hyundai Tuscon, or experiences in other countries. In April 2015, I will begin the US Peace Corps as a Healthy Youth Volunteer in Lesotho, a small country completed surrounded by South Africa. My hope is to some day to combine my passion for human development with photography to, in small or large ways, make the world a better place. See my entire portfolio or follow my Peace Corps experience at: aliciamcarter.com Instagram: aliciamcarter Thanks for stopping by. Cheers! :) AliciaCarter joined Society6 on February 12, 2015
More
I have recently figured out that I don't make photographs, my photographs make me.
After graduating from the University of Denver last year I have spent most of my time photographing. These are a collection of my images from my life in Colorado, travels in my Hyundai Tuscon, or experiences in other countries. In April 2015, I will begin the US Peace Corps as a Healthy Youth Volunteer in Lesotho, a small country completed surrounded by South Africa. My hope is to some day to combine my passion for human development with photography to, in small or large ways, make the world a better place.
See my entire portfolio or follow my Peace Corps experience at: aliciamcarter.com Instagram: aliciamcarter
Thanks for stopping by. Cheers! :)
AliciaCarter joined Society6 on February 12, 2015.