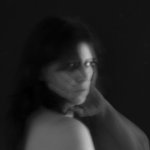 Alicia Shahaf
Born in Buenos Aires, Argentina; lives and works in Israel since 1980.
Graduate of Camera Obscura Art School – Photography department (1995) and Curators Seminar (2003)
Studio owner: photographs women as a personal experience.
Gives one on one and small groups workshops on photography, developing the creative mind and creating a portfolio.
Exhibits in art exhibitions in galleries and museums all over the world
Read more